Still as cute, our four little friends are just beginning to walk…

After noting that one of the kittens had managed to get out of the carton in which he was born, we fitted a large wicker basket, welcoming enough for Didi to install her youngs. We wanted, above all, to offer a confined and relatively dark space. So we placed an old cloth impregnated with the smell of the kittens in the basket and then an equally old fitted sheet as a tent.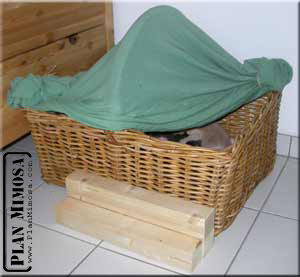 The wicker basket
Apparently this has pleased Didi, since she has not waited more than one hour before moving! This moment was also interesting to observe: Working on my computer at less than three meters from the scene, I was in a privileged position to study the transport of the kittens. In fact, taking advantage of a moment when her four little were sleeping, Didi at first carried the small female (the gray) in the basket.

The gray
There, she laid with her, until she falls asleep again. Then she went back into the box where slept the three little males. She has grabbed one and has conveyed it in the basket. Once again, she waited for the freshly installed kittens fall asleep before proceeding in exactly the same way for the last two. In all, the operation lasted about 50 minutes, during which none of the kittens was never found alone and awake at once, so the calm and the serenity really were the hallmarks of this transfer. Congratulations Didi!

The 4 kittens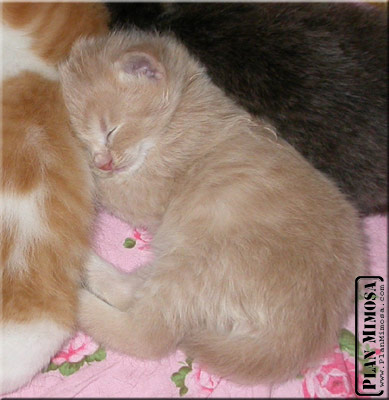 The beige
It is now three days that all these guys live in the big wicker basket. The kitties now have their eyes fully open, they become more and more vigorous, sometimes even trying to climb the basket wall. Besides, I do not know yet who will adopt the one you can see below, but it deserves to be called Houdini!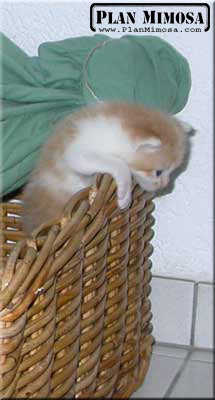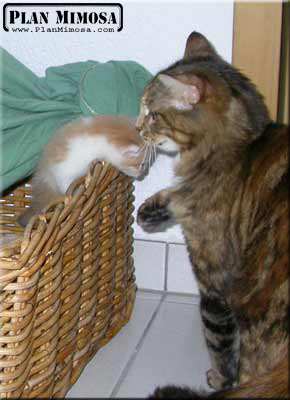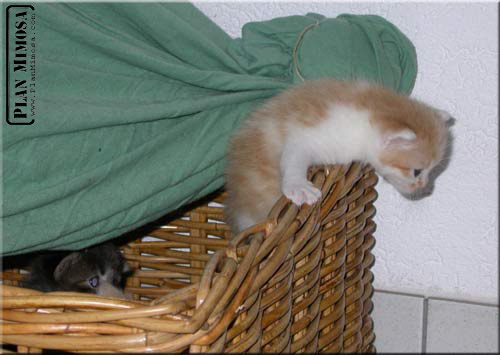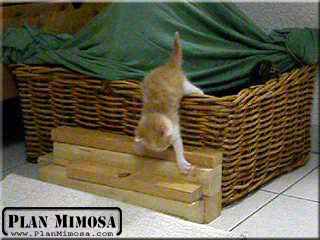 Well done Houdini 😀
You will notice that we have already planned the little staircase to ease the comings and returns in the basket. Otherwise, they have nothing else to do than to sleep, eat and fight with all the sweetness that only cats of their age know….

The beige
See you!
Jenri